News & Announcements
NOVEMBER 2, 2020
What: CAPTAIN SUMMIT for CAPTAIN Cadre (by invitation only)
Keynote: Clay Cook, Ph.D., The ABC's of Implementation
Other Events: Hot Topics and Job Alike Breakouts
Date: November 2, 2020
Time: 8:30 AM to 2:00 PM
Location: VIRTUAL Zoom
Registration Cost: Free
Registration: Active CAPTAIN Cadre will receive an individual registration via email
Questions: Email captain@marinschools.org
For more information: See flyer
NOTE:
Boot Camp for New CAPTAIN Cadre only is October 9, 2020 12:00 PM to 4:00 PM; by invitation only
---
MARCH 31, 2020
RESOURCE AND GUIDANCE PADLETS DURING SCHOOL CLOSURES FOR STUDENTS WITH ASD
SELPA CONTENT LEAD-ASD, CAPTAIN/Marin County SELPA
Here is the link to the English Padlet:
https://padlet.com/SELPACAPTAIN/xr3r3q3szpyf
Here is the link to the Spanish Padlet for Families:
https://padlet.com/SELPACAPTAIN/c4ibcglc414h
---
APRIL 23, 2019
5th Annual Regional Autism Conference,
Rancho Cucamonga, CA
"Empowerment! Using EBPs and Community Partnerships to Promote Independence"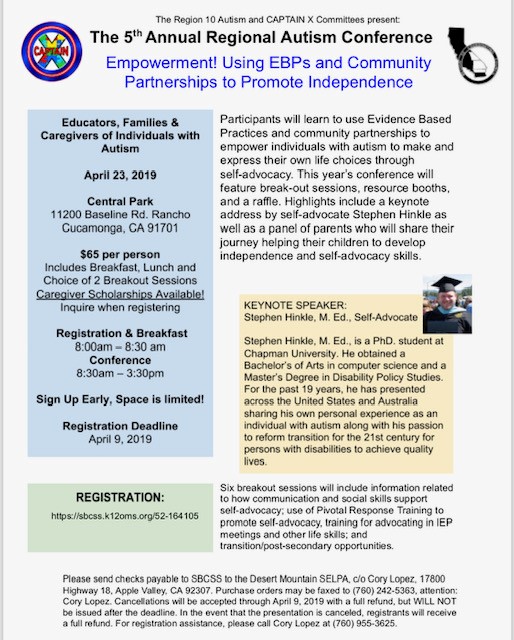 ---
APRIL 25, 2019
Ventura County Office of Education
Social Skills Training for Adolescents with ASD & Other Social Challenges
Presenter: Dr. Shannon Bates, Certified PEERS® Trainer, UCLA PEERS® Clinic
More information
---
FEB 1, 2019
Please help us learn more about how evidence based practices are used for students with Autism in the California Public Schools!
Complete a survey at http://bit.ly/2CwR8gm (you will be automatically entered to win $50)
Assist us with recruitment by sending this information on to other California public educators who are supporting students with Autism
Thank you so much for your support,
Patty Schetter, MA, BCBA
CAPTAIN Project Coordinator
UC Davis MIND Institute
---
MARCH 1, 2019 - 8:00AM-4:30PM
Fresno: Mindfulness and Behavioral Practices for Students with Diverse Abilities
Presenter: Nirbhay Singh, PhD, BCBA-D
Sponsor: Central Valley CAPTAIN (with DCC and Focus on Unity)
For more information: Here
---
SEPTEMBER 24-26, 2018
PBIS Conference - Sacramento
California Conference on Positive Behavior Interventions and Supports: Building Systems of Supports for Children and Families
For more information:
https://www.placercoe.k12.ca.us/departments/educationalservices/prevention/cpc/pbis/Pages/cf-conference.aspx
---
APRIL 2018
CAPTAIN is mentioned in the U.S. Department of Education, Office of Special Education and Rehabilitative Services Blog
https://sites.ed.gov/osers/2018/04/evidence-based-practice-and-autism/
---
SEPTEMBER 2017
CAPTAIN is featured in the California Department of Special Education Fall 2017 newsletter, The EDge, Volume 31, No. 3
http://www.calstat.org/publications/pdfs/2017The%20EDge%20Newsletter_fall.pdf
---
OCTOBER 11, 2017

CAPTAIN OF THE NEW WAVE REGION 1 IS HOSTING A FREE CONFERENCE IN WHITTIER ON OCTOBER 11, 2017, 8:30AM-2:30PM: "AUTISM AND EVIDENCED BASED PRACTICES"

Click HERE to view flyer

Introductory Topics:
What is Autism Spectrum Disorder (ASD)? 
What is CAPTAIN?
What are the 27 Evidenced Based Practices and why we should use them?
Breakout Sessions:
Video Modeling
Social Narrative
Reinforcement
Antecedent-Based Intervention
Location:

Whittier Area Cooperative Special Education Program (WACSEP)
8036 S. Ocean View Ave Whittier, 90601

Cost: FREE

Registration Deadline: September 29, 2017 (*Limited to 100 participants!)

Registration: www.wacsep.org click "CAPTAIN The New Wave"

Questions: Contact Lisa Torres (562) 945-6431 x8221 or ltorres@wacsep.org
---
OCTOBER 19, 2017
CAPTAIN L.A. is sponsoring their 2nd Annual Regional Conference on Autism and Evidence-Based Practices:
"Strategies for Success"
Thursday, October 19, 2017  8:30am-3:30pm
CLICK HERE TO VIEW FLYER
REGISTER HERE https://goo.gl/iGd5kC
 *PARENTS REGISTER by calling: 213-252-4976
---
OCTOBER 6, 2017
CENTRAL VALLEY CAPTAIN IS CO-HOSTING A CONFERENCE IN FRESNO ON OCTOBER 6, 2017, 8:30AM-4:00PM:
"TRANSITIONING TO COMPETENT ADULTHOOD FOR INDIVIDUALS WITH AUTISM; IMPLICATIONS FROM PRESCHOOL TO HIGH SCHOOL AND BEYOND"
SPEAKER: PETER GERHARDT, ED.D.
CLICK HERE TO VIEW FLYER AND REGISTER: www.regonline.com/gerhardt
---
SEPTEMBER 28, 2016
CAPTAIN L.A. REGION 2 IS HOSTING A CONFERENCE ON SEPTEMBER 28 2016 "ASD AND EBPs"
LOCATION; Goodwill Community Enrichment Center 3150 N. San Fernando Road Los Angeles
COST: Free for Parents ▪$15/person for Service Providers, Educators, Professionals:
REGISTRATION: Online registration process for service providers/professionals at: https://fdlrcprovider.arcalearn.org
PARENT REGISTRATION: Call 213-252-4976
VIEW FLYER HERE

---
March 23, 2016
CAPTAIN of the Central Valley, Diagnostic Center, Central and Focus on Unity in Education present a conference on:
"New Dimensions: Emotional and Behavioral Disorders and Autism"
Presenter: Ananda Aspen
April 29, 2016 8:30am-4:00pm
Veteran's Memorial Auditorium, Clovis, CA
See flyer for registration details

---
March 17, 2016
CAPTAIN X and Region 10 Autism Committee presents the 2nd Annual Regional Autism Conference
"Preparing for Success Right from the Start"
April 19, 2016
Etiwanda Gardens, 7576 Etiwanda Ave, Etiwanda, California
See flyer for registration details

---
December 8, 2015
ARCA Statement on shooting at Inland Regional Center


Click to read full announcement
---
October 15-16, 2015
CAPTAIN is holding it's third annual Northern California Summit at the San Joaquin County Office of Education in Stockton. Nearly 200 CAPTAIN Cadre will gather for two full days. The Summit includes opportunities for capacity building for the new CAPTAIN Cadre; updates on what's new in the field of ASD; as well as keynote speakers about specific evidence-based practices (EBPs) for individuals with ASD:
Aubyn C. Stahmer, Ph.D., Research Scientist at the UC Davis MIND Institute and Associate Professor in Psychiatry and Behavioral Sciences at UCD and Janice Chan, M.A., Teacher Coach with the CPRT Study at UCSD will discuss Pivotal Response Therapy in the classroom.
Aarti Nair, Ph.D., Postdoctoral fellow with the UCLA Ahmanson-Lovelace Brain Mapping Center and the UCLA PEERS® Clinic at the Semel Institute for Neuroscience and Human Behavior will discuss the PEERS Social Skills Program.
A substantial amount of time will be dedicated for the Northern California regional CAPTAIN Cadre teams to network and plan their 2015-2016 activities to achieve the goals of CAPTAIN:
Goal 1: Increase knowledge about ASD and EBPs through systematic dissemination of information
Goal 2: Increase implementation and fidelity of EBPs in schools and communities
Goal 3: Increase interagency collaborations to leverage resources and standardize process for using EBPs
---
Upcoming Event on July 27, 2015:
The CAPTAIN Region 3 group, Capital CAPTAIN, will be sponsoring a free all day conference on EBPs for ASD at Twin Rivers Unified School District Office, McClellan. For more information and to register, contact Diane Larzelere at 916-703-0268.
Suggested For:

Parents and Family Members

Pre K – Secondary Educators

Adolescent and Adult Providers

9:00 – 12:00

Strategies for Supporting Positive Behaviors in Home and Community (English Language)

Using Effective Prompting and Fading Strategies for Supporting Independence

Teaching Self Advocacy Through Student Participation in the IEP/IPP Process

12:00 – 1:00

Lunch on your own

1:00 – 4:00

Strategies for Supporting Positive Behaviors in the Home and Community (Spanish Language)

Infusing Evidence Based Practices Across the School Day

Using Video Modeling to Promote Skill Development and Positive Behavior
---
Upcoming Event: Symposium for Medi-Cal Managed Care July 1, 2015
Upcoming Event: Symposium for Medi-Cal Managed Care
Date: Wednesday, July 1, 2015
Time: 10:00am-3:00pm (Lunch: 12:00-1:00pm on your own)
Cost: Free
Location:
Alta California Regional Center
2241 Harvard St, Sacramento, CA 95815 (Free Parking)
Topics Covered:
DHCS updates
Overview of Early Start, IDEA, and Lanterman mandates
Overview of Evidence Based Practices in ASD (NPDC – ASD and National Standards Reports)
Best Practices in Diagnosing and Treating ASD
Care Coordination
Registration:
Pre-registration is required and spaces will be reserved on a first come first served basis
Register by emailing ddcenter@ucdmc.ucdavis.edu
Registration questions:  Diane Larzelere at 916-703-0268
Content questions: Robin May at 916-978-6665 rmay@altaregional.org
---
April 2, 2015
The National Autism Center has chosen World Autism Awareness Day – April 2, 2015 – to release its new review and analysis of interventions for autism spectrum disorder (ASD) based on research conducted in the field from 2007 to 2012. The new publication provides an update to the summary of empirical intervention literature (published in the National Standards Report in 2009) and includes studies evaluating interventions for adults (22+), which have never been systematically evaluated before now.
---
October 1, 2014
October is National Bullying Prevention Month
Did you know that students with ASD are bullied more often than students with disabilities?  Studies have indicated that of the students who are bullied, 63% are on the autism spectrum.
Here are some resources to help you do your part in addressing this problem:
---
May 12, 2014
Save the Date!!!
August 8, 2014: UC Davis MIND Summer Institute on Neurodevelopmental Disorders, UC Davis Conference Center, Davis, CA, Keynote: Bruce F. Pennington, PhD: Analyzing Comorbidity with Genetic and Cognitive Methods plus other workshops (open to public). More Info and registration here.
October 2-3, 2014: CAPTAIN South Forum, Carson Community Center, Carson, CA (by invitation only)
October 16-17, 2014: CAPTAIN North Forum, San Joaquin County Office of Education, Stockton, CA (by invitation only)
---
March 27, 2014
The Centers for Disease Control and Prevention (CDC) Releases New Statistics:  Estimates 1 in 68 children has been identified with ASD
The CDC estimates that 1 in 68 children (or 14.7 per 1,000 eight-year-olds) in multiple communities in the United States has been identified with autism spectrum disorder (ASD).  This new estimate is roughly 30 percent higher than previous estimates reported in 2012 of 1 in 88 children (11.3 per 1,000 eight year olds) being identified with an autism spectrum disorder.    The number of children identified with ASD ranged from 1 in 175 children in Alabama to 1 in 45 children in New Jersey.
The surveillance summary report, "Prevalence of Autism Spectrum Disorder among Children Aged 8 Years – Autism and Developmental Disabilities Monitoring Network, 11 Sites, United States, 2010," was published on March 27, 2014 in the CDC's Morbidity and Mortality Weekly Report.  Researchers reviewed records from community sources that educate, diagnose, treat and/or provide services to children with developmental disabilities. The criteria used to diagnose ASDs and the methods used to collect data have not changed.
The data continue to show:
ASD is almost five times more common among boys than girls:  1 in 42 boys versus 1 in 189 girls.
White children are more likely to be identified as having ASD than are black or Hispanic children.
Levels of intellectual ability vary greatly among children with autism, ranging from severe intellectual challenges to average or above average intellectual ability.  The study found that almost half of children identified with ASD have average or above average intellectual ability (an IQ above 85) compared to a third of children a decade ago.
Children with ASD are diagnosed after age 4, even though ASD can be diagnosed as early as age 2.
For additional information on Autism and Developmental Disabilities Monitoring (ADDM) Network and this report, visit www.cdc.gov/autism.
---
March 2014
The National Professional Development Center on Autism Spectrum Disorders (NPDC) has updated the autism intervention literature review and generated a the report: "Evidence-Based Practices for Children, Youth, and Young Adults with Autism Spectrum Disorder."
Evidence-based intervention practices (EBPs) for children with ASD are the basis on which effective programs are built. In 2010, the NPDC conducted a review of the literature (from 1997-2007) and identified 24 EBPs. The NPDC has just completed an expanded and updated review, which yielded a total of 27 practices. The report of the 2014 review is now available in PDF format at: http://autismpdc.fpg.unc.edu/content/ebp-update
CAPTAIN has developed a matrix of the 27 EBPs which can be found in the Summit Resources section of the CAPTAIN website.